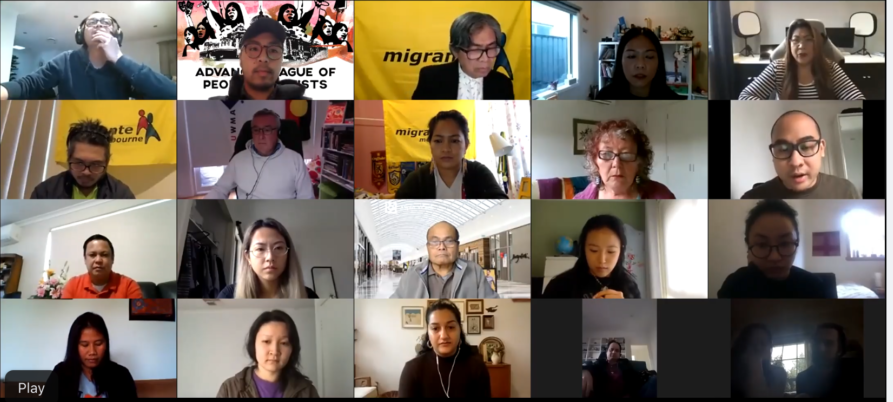 By Candice Rabusa:
The Support Network for International Students (SNIS) was officially launched on Saturday, the 12th of September 2020. International students are one of the most vulnerable sectors of the Australian society and the pandemic just uncovered how severe the insti- tutional issues are. SNIS was born out of the necessity to consolidate the calls for much-needed reforms in the Australian international education system to better protect the rights and welfare of international students. We envisage these calls will better regulate education providers, dodgy migration agents, wage theft and inclusion to Covid-related economic packages from the government.
Migrante Melbourne is truly heartened by the overflowing expression of solidarity by members of the network as well as the span of views on social media. At the time of writing, it has reached about 5K views already!
A resounding theme at the launch was that the system is not protecting the international students well enough. "With the pandemic we have seen that there are weaknesses that has to be looked at, in terms of the student visa system. "The FCCVI will continue to support and advocate for the proper screening of students going into Australia and making sure that they are not lured into education trafficking", Marlon de Leon of FCCVI said.
The institutionalisation of the idea that international education is a business entity was also acknowledged. "Organisations and initiatives like this invite us to ask what types if business exactly international education is. As people in their messages have suggested what global lines of difference does it exploit, does it operate upon, does it augment, what in fact does it sell to people and what terms does that bargain take place. It's been observed that the miracle of international education is not just that it brings people to Australia to work as other visa categories but its real miracle is that it brings them here to pay for that privilege. I'm extremely humbled to hear the messages about taking the struggles along global lines" Sanmati Verma, senior immigration lawyer who has been generously supporting Migrante with legal questions.
Indeed, our first step to collectivise and organise a network was a massive success. SNIS had conducted a couple of meetings since the launch and have formalised the terms of reference further defining its short and long-term goals.
Another campaign is also being planned for school fee reduction to be applied across all providers and further calls for investigation of dodgy education providers.
Further actions such as conducting forums on students' rights and welfare, migration laws, capacity- building workshops, petition signings, fund raising activities and dialogues with various stakeholders, especially government agencies, will follow.
In the long term SNIS aims to counter the narrative that see international education as merely an economic good which leaves international students as merely collateral damage of any economic disaster. This narrative is an enabler of education trafficking further exposing international students to so much exploitation in Australia.